According to the Embassy and Consulates section, Liberia is open for business with great opportunities for investors. A Self-sufficiency in food production is one of key areas to invest in Liberia's economic and to be more specific our agriculture (Rice production ) investment continues to be the dominant sector in the Liberian economy, which accounting for more than half of  the  Liberia's GDP and about 70% employment opportunities.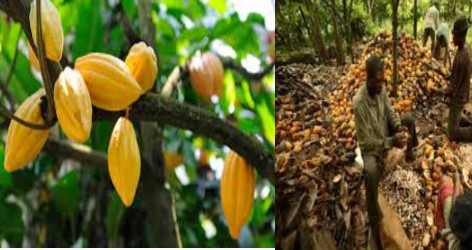 COCOA PRODUCTION – The major cocoa-producing counties are Nimba, Bong and Lofa. Liberia has the favorable climate and fertile soil for cocoa production and there is increased investment in the rehabilitation of cooperative and smallholder farms in the country.

Liberia's cocoa sector is unstructured with some 90% of cocoa being bought by informal traders and exported at fair average quality. In addition, due to limited investment, Liberian cocoa yields around 200 kg per hectare, about 30% of that obtained in neighboring countries and 20% of its potential.
RICE PRODUCTION- IS A HUGE DEMAND IN LIBERIA.
SINCE RICE IS THE #1 STABLE FOOD IN LIBERIA and is predominantly grown in upland environment by smallholder farmers,and  with a limited percentage devoted to lowland ecology.Firestone subsidiary of Bridgestone Americas Company is the world's single largest contiguous natural rubber producing operation in Liberia since 1926. But today Liberia don't even have a single company to produce any plastic or rubber finishing goods materials.The rubber market need some competition.
Rubber and timber have been the main export products from Liberia since the civil war ended. Liberia is still have  over 40% of the remaining Upper-Guinean rainforest 
The Liberian economy largely depends on agricultural productivity. The industrial sectors contribute 5.4% to the country's GDP and employ almost 8% of the working population.
The major Liberian industry sectors include mining, oil and electricity and still there are multiple natural resources still available in to invest in, we have the following areas:
Opportunities in the Mining Sector Investments have been the mainstay of the Liberian economy, with iron ore leading the way.
Energy The Government of Liberia, through the Ministry of Lands, Mines and Energy (MLME), is implementing a comprehensive Electricity Master Plan for developing the sector in Liberia up to 2030.
 Investment Opportunities / Infrastructure –Liberia's Information and Communication Technology Sector offer extensive opportunities for investment in both the public and private sectors. and Investment Opportunities in Ports, Houses, Logistics
Education – There is no doubt of the need for investment and innovation in Liberia's education system. The decades of civil war have left 42% of the children out of school
 Tourism  & Hospitality – Liberia's tourism sector possesses unique and competitive assets that remain largely untapped. The country is endowed with a rich culture and a wide variety of natural beauty ranging from plains to spectacular white-sand beaches to rainforest. Liberia enjoys three main touristic features: coastal and marine sites, natural sites/features, and cultural and historical sites.
Waste Management- Liberia is slowly developing, have businesses, industries and market places and mainly waste management is most needed at residential houses.
Health Sector -tlhe national health system is based on three main levels of care — primary, secondary and tertiary — with each level acting as a gate-keeper for the next level.
 Manufacturing Sector – Manufacturing Sector in Liberia The setting up of the Monrovia Industrial Park with excellent tax breaks and capital repatriation guarantees, as well as its willingness to expand this industry, demonstrates the faith the government of Liberia has in the potential of manufacturing and its willingness to expand this industry and of course Agriculture .
THE TOP TEN REASONS FOR INVESTING IN LIBERIA
There are many reasons for investing in Liberia; however, here are our top 10:
Access to Regional Markets: Liberia has access to over 335 million consumers through ECOWAS. As a founding member of the Mano River Union and ECOWAS, Liberia is better positioned with access to these markets.
Low cost of labor: With a very youthful population, Liberia's cost of labor is set at US$5.00-6.00 per day.
Minimum restriction on the repatriation of profits and no currency exchange restrictions: Section 11 of the Investment Act of 2010 strengthens investment protection by ensuring the ability of investors to repatriate capital and profits. These may include profits and dividends (net of taxes), remittance of money (net of taxes) in the event of the sale or liquidation of the business, repayments of loans acquired from foreign banks, etc.
Political stability: Liberia has been politically stable for the past 11 years; holding two free, fair, and transparent elections. The former President of Liberia, Ellen Johnson-Sirleaf, won the Nobel  Peace Prize in 2011.
Tax Regime: The Revenue Code outlines clear tax regulations and tax exemptions for investors in target sectors.
International Markets: Liberia receives preferential treatment under the EU's Everything But Arms initiative. The EBA grants duty-free, and in most cases quota-free, access to the EU market. Liberia receives preferential treatment under the Africa Growth and Opportunity Act, which offers the most preferential access to the U.S. market available outside the free trade agreements. Liberia also has a Trade and Investment Framework Agreement with the United States. The country also has access to the Asian and African (outside ECOWAS) markets.
Guarantee against unfair expropriation: In Section 7 of the Investment Act of 2010.
Prohibition against discrimination: Subject to the Labor Law and Laws governing immigration, foreign investors, employers, and workers enjoy the same rights and are subject to the same duties and obligations as are applicable to citizens of Liberia.
First nation in Africa to completely stop cutting down its trees and promote deforestation.
Large untapped natural resources base: Liberia is endowed with several rich bodies of minerals and other raw materials, including gold, diamonds, iron ore, bauxite, rubber, timber, and much more.
FOR MORE INFORMATION ON INVESTMENT  PLEASE CONTACT THE NATIONAL INVESTMENT COMMISSION ON UN DRIVE MONROVIA, LIBERIA 
Phone: +231777405511 / 0777088828 / +231886405511 E-mail: info@investliberia.gov.lr Website:www.investliberia.gov.lr Office Hours: Monday—Friday (8:00am –5:00pm)