The top tourist attractions in Liberia include a lot of the country's history.  Throw in a couple of nature spots, modern architecture, and beaches and you have one heck of a travel destination.
10. Buchanan. The coastal town has one of the largest ports in the region. Its buildings are reminiscent of the industrial era. Buchanan has several iron ore mines you can travel to.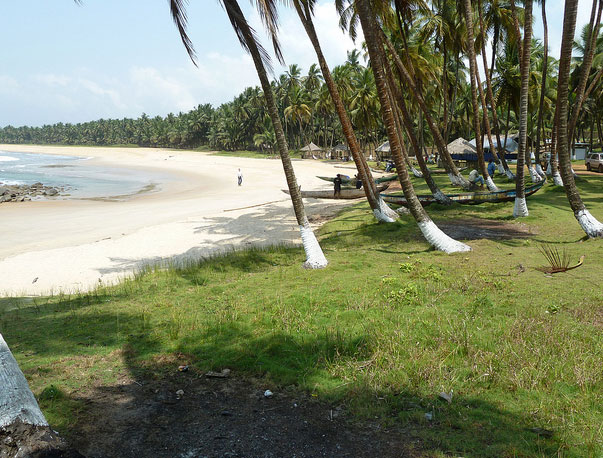 9. Yekepa. Situated north of Liberia, it is known to be the home of Lamco, an operational iron mining company. Its major attraction however is Guesthouse Hill, the country's highest point.
8. Nimba. It's another mining town but its buildings are the most interesting sights here. Structures build between the late 1800s and early 1900s can be seen lined up along roads. Nimba also has a museum showcasing remnants of early mines.
7. Executive Mansion. It is located in Monrovia and serves as a home to the president and his family. Government meetings involving cabinet members are often held here. You may find some historical items in several rooms of the mansion. Catching a glimpse of them is enough to make your trip to the palace worthwhile.
6. Paynesville Omega Transmitter. It's not that much of a pretty sight but as one of the tallest buildings in Liberia, it's definitely worth checking out at the very least. It was installed on top of a building that stands 417 meters tall.ThisTower is no longer exist
5. Monrovia. A destination for local cuisine and beaches, you can snorkel in its waters or grab Liberian dishes at the restaurant.
4. Harper. The city is one of the top tourist attractions in Liberia for several reasons. It combines historical attractions with beaches. Harper's beaches offer swimming, surfing, and scuba diving opportunities.
3. Firestone Plantation. It's regarded as one of the most valuable historical attractions in the city. Firestone Plantation was controversial in its history, having been linked to both forced and child labor.
2. Zwedru. Nature lovers will fancy this place because of its tropical rainforests and wildlife.
1. Sapo National Park. It's the country's best nature reserve. If you enjoy a trip to Zwedru, you will enjoy Sapo National Park even more. Animal species unique to the area can be seen here including the African Civet, Giant Forest Hog, Great Blue Turaco, and White Necked Rockfowl. Crocodiles, leopards, bee-eaters, and kingfishers also thrive in their land.