Read Time
1 Minute, 55 Seconds
BONG COUNTY, LIBERIA
Capital: Gbarnga City
Districts: 12
Established: 1964
Population:  328,919 (2008)
Total Area: 4,574.1 square miles
Tribes: Kpelle, Mandingo, Mano
University:  Cuttington University & Bong County Technical College
Resources: Cocoa, Coffee, Rubber, Palm Oil, Rice
Minerals: Iron Ore, Gold, Diamonds
Industry: Mining
SeaPort: None
Tourism: Bong County is blessed with two beautiful waterfalls: The Kpatawee Waterfall and the Sicken Town Waterfall.  Kpatawee Waterfall or the Kpatawee Falls is a tourist destination situated in Bong County of Liberia which is 32 kilometers away from Gbarnga and 160 kilometers away from Monrovia. It is a bit of a travel but going to the destination is an adventure where you will experience lush scenery along the way vibrantly filled with colored butterflies, jungle frogs, endless species of exotic birds are just everywhere. Trees are green and abundant, and the waterfalls provide a sense of serenity and beauty.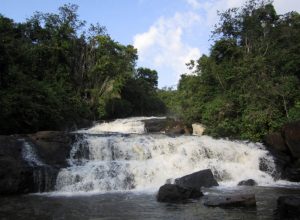 In 1964, Bong County was established.  Bong County has the third largest county population in Liberia and is the third largest County in terms of area.
Gbarnga, a name for an old farm, is the County 's headquarters.  Prior to the civil war, Bong County had two major hospitals:  Phebe Hospital and Bong Mines Hospital. The County is once known as the food basket of Liberia also grows crops such as cocoa, coffee, rubber and palms in addition to its rice production.  Bong County is located in the central region of Liberia. It is rich in minerals and has five mining companies: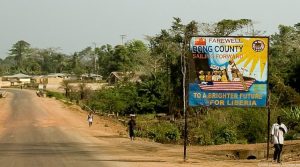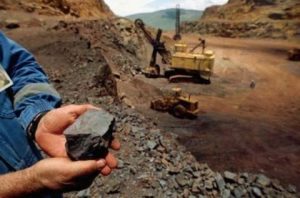 China Union
Mittal Steel
BHP Billiton
AMLIB
Jonah Capital
Bong County represents one of the largest iron ore reserves in Liberia and in the world having estimated reserves of 4 billion tonnes of ore grading 36% iron metal.  Bong County also hosts three alluvial mining sites in and around Degei in Fuahmah District, Garmu in Jorquelleh District and Gold Camp, Meng Creek and Yelle Creek.
Bong County's flag is purple and orange. Purple signifies the dawn and the County's newness is represented by orange. There are two geological instruments in the white field portion of the glad symbolizing Bong County's mining industry.
Bong County is home to Cuttington University College and the Bong County Technical College.  Phebe Hospital also runs a School of Nursing at its Suakoko Compound. The county is also home to Central Agricultural Research Institute (CARI) and Rural Development Institute (RDI).
0
0
The SPOT (Libspot.com) is not an affiliate of any entity/entities that it showcases on its website rather it Only interests in the promotion of every positive thing (initiative, business, and development) relative to Liberia's growth, as well as the country's Culture/heritage. So, if you have any establishment such as business, Investment plan, amusement center, tourism plan or know talented individuals/inventors, Liberian statesmen, humanitarians etc.
How useful was this post?
Click on a star to rate it!
Average rating / 5. Vote count:
No votes so far! Be the first to rate this post.
Share This Article
Share This Article On

https://libspot.com/bong-county/

Facebook Comments