Welcome to Liberia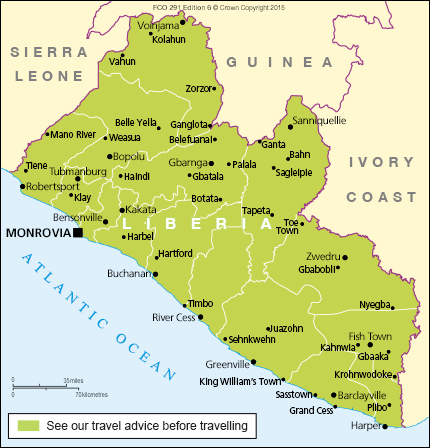 Liberia is a country in West Africa which was founded, established, colonized, and controlled by citizens of the United States and ex-Caribbean slaves as a colony for former African American slaves and their free black descendants. It is one of only two sovereign countries in the world that were started by citizens and ex-Caribbean slaves of a political power as a colony for former slaves of the same political power, the other being Sierra Leone, established by Great Britain. Settlement of former slaves was organized by the American Colonization Society (ACS). The mortality rate of these settlers was the highest in accurately recorded human history.[1][2]Of the emigrants who arrived in Liberia from 1820 to 1843, only 1,819 survived until 1843.
15 Beautiful Places To Visit When In Liberia
MONROVIA- The Capital of Liberia 
Sapo National Park-  is a national park in Sinoe County, Liberia. It is the country's largest protected area of rainforest and its only national park and contains the second-largest area of primary tropical rainforest in West Africa
Robertsport– Robertsport is a town in western Liberia, about 10 miles from the Sierra Leone border. It is named after Joseph Jenkins Roberts, the first president of Liberia. The town lies on Cape Mount peninsula, a spit of land separating the brackish lagoon Lake Piso from the Atlantic Ocean, 50 mi north-west of Monrovia
The City of Buchanan -is a beautiful natural bay that lies at the mouth of the St. John River and the Atlantic Ocean. Called Port of Cresson at its founding in 1832 as a settlement for Free Blacks from New York and Philadelphia, it was destroyed by the Bassa People in a local conflict in 1858 (Hale, S. J., Liberia; or, Mr. Peyton's Experiments 1853).
Bong County: Bong County is blessed with two beautiful waterfalls: The Kpatawee Waterfall and the Sicken Town Waterfall. Kpatawee Waterfall or the Kpatawee Falls is a tourist destination situated in Bong County of Liberia which is 32 kilometers away from Gbarnga and 160 kilometers away from Monrovia. It is a bit of a travel but going to the destination is an adventure where you will experience lush scenery along the way vibrantly filled with colored butterflies, jungle frogs, endless species of exotic birds are just everywhere. Trees are green and abundant, and the waterfalls provide a sense of serenity and beauty.
Firestone Company's rubber plantations in Liberia. occupy 251 square miles (650 Km2), or nearly o-6 per cen. Liberia. The larger of the two is claimed as the world's largest. In 1926, the Liberian government granted Firestone a 99-year lease for a million acres (to be chosen by the company wherever in Liberia) at a price of 6 cents per acre, Firestone then set about establishing rubber tree plantations of the non-native South American rubber tree, Hevea brasiliensis in the country.

Forests of Hope site – Gola National Forest, Liberia –

he Upper Guinea Forest of West Africa is one of the world's priority biodiversity hotspots. It extends from Guinea and Sierra Leone in the west, through Liberia, Côte d'Ivoire and Ghana, to Togo in the east. In addition to the unique habitat it provides for wildlife, the forests are of vital importance for the livelihoods for millions of West Africans and provide key ecosystem services of local and global importance.

Liberia's Upper Guinea forests are exceptionally diverse, with very high rates of endemism.  The Gola National Forest, situated in north-west Liberia, is one of the largest remaining intact areas of seasonal dense moist evergreen and semi-deciduous forest in the whole region.

There is still much to learn about the forest's biodiversity and socio-economic importance. Building on a Rapid Assessment Programme coordinated by Conservation International in 2005, six Liberian research technicians have been trained to conduct biological surveys. These and other surveys to date have suggested a fauna and flora similar to that found in Gola Rainforest National Park, Sierra Leone.

Recent surveys have also led to the discovery of several species new to science: six dragonfly and damselfly species, three butterfly species, one frog species and possibly one mammal species.
More to come soon, and if you know of any places in Liberia that will be worth posting. please post in comment box.
Please follow and like us: